Prayer for John of Nepomuk with Pilsen Philharmonic Orchestra and VUS UK
16. 5. 2021 - 4:00 PM
Church of St. James the Elder in Nepomuk, Přesanické náměstí, Nepomuk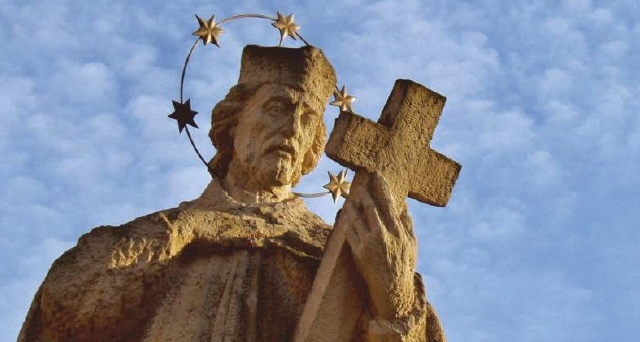 As part of this year's celebration of the 300th anniversary of the beatification of John of Nepomuk, we have joyfully and humbly accepted the invitation to participate in one of the key events of the St John of Nepomuk celebrations – the Prayer for John of Nepomuk, which will take place in the Church of St James, where John of Nepomuk was baptised.
John of Nepomuk and his double life, that is, his earthly life and the afterlife, are the source of many scholarly works. Although he lived in the second half of the 14th century, he is sometimes referred to as a "saint of the Baroque", which recalls the enormous popularity he achieved during this period. This will be reflected in the musical programme on Sunday afternoon. The Pilsen Philharmonic Orchestra will play works by J. I. Link or P. J. Vejvanovský, and in the approximately one-hour programme we will first present a choral part of Bach's famous chorale "Jesus bleibet meine Freude", then we will commemorate Jan Nepomucký with three songs of the Czech Middle Ages, the first of which (it is, by the way, the oldest Czech polyphony, i.e. the first composition on Czech territory that includes at least two voices) evidently dates from the time of Jan's life. The programme will culminate with a cantata by the "last Czech Baroque composer" František Xaver Thuri (1939-2019).
The entire programme with the participation of the highest representatives of the Church will take place under strict epidemiological conditions and unfortunately without the participation of the audience, but it will be broadcast live on TV NOE (link to the live broadcast – HERE).
TV Noe – programme: Prayer to St. John of Nepomuk with the Pilsen Philharmonic Orchestra

VUS programme:
Johann Sebastian Bach: Jesus bleibet meine Freude, chorale from cantata BWV 147
Three Latin songs of the Czech Middle Ages:
Primo tempore
Sanctissima, mitissima
Fulgent, fulgent nunc
František Xaver Thuri: Cantata to St. John of Nepomuk
Performed by:
Alžběta Poláčková, Nadia Ladkany, Tadeáš Hoza – vocal
Jakub David Směšný – organ
Prague Church Soloists
Charles University choir, art director Jakub zicha
Pilsen Philharmonic Orchestra, conductor Chuhei Iwasaki