Memory of Nations Awards 2014
17. 11. 2014 - 8:00 PM
National Theatre, Národní 2, Prague 1
VUS has accepted the offer of cooperation with a pianist Marián Varga and a singer Jana Kirschner to perform at the Memory of Nations Awards ceremony with live TV broadcast by Czech Television starting at 8 pm on ČT2 programme. The host of the evening is Marek Eben.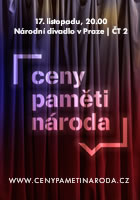 The Memory of Nations Awards is an annual awards ceremony first presented in 2010 and held by Post Bellum civic association. The Memory of Nations Awards are presented to individuals who personally experienced some of the key moments of the 20th century and who "through their actions have proven that honour, freedom, and dignity are not just empty words." In 2014 it is taking on an international character with 20 nominees from Czech Republic, Poland, Germany, Hungary and Slovakia commemorating 25th anniversary of the Fall of the Iron Curtain in 1989.
The international character of the awards will be mirrored in the music programme of the evening with performances of John Cale (former member of The Velvet Underground), a Hungarian keyboardist Gábor Presser (Omega); a guitarist Ivan Král (formerly member of The Patti Smith Group); a Berlin-based cult band Pankow; a Polish band Raz Dwa Trzy and Pražský Výběr.