G. Fauré: Requiem
21. 11. 2016 - 7:00 PM
National Technical Museum, Kostelní 42, Prague 7 – Letná
PRIVATE EVENT
To continue in the series of successful concerts given in the "Transportation Hall" of the National Technical Museum, the Charles University Choir will sing at a memorial concert to mark the 100th anniversary of the death of Emperor Franz Joseph I on 21 November 2016.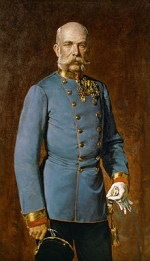 Franz Joseph I from the House of Habsburg-Lorraine was Emperor of Austria, King of Hungary, Croatia and Bohemia, King of Lombardy-Venezia, King of Dalmatia, Croatia, Slavonia, Margrave of Moravia, etc. He ruled his domains for almost 68 years.
On 2 December 1848, Emperor Ferdinand abdicated the throne at Olomouc in favour of Archduke Franz Josef. In 1854, Franz Josef married his cousin Elisabeth of Bavaria. He was the longest-reigning monarch in the world and the longest living persons of all the Habsburg rulers (86 years).


Programme:
Joseph Haydn (1732-1809): Te Deum (dedicated to the Empress Maria Theresa), Hob. XXIIIc: 2
Gabriel Fauré (1845-1924): Requiem, op. 48
Introit et Kyrie
Offertorium
Sanctus
Pie Jesu
Agnus Dei
Libera me
In Paradisum
Performers:
Monika Brychtová – soprano
Martin Kalivoda – baritone
Charles University Choir
Camerata Carolina Chamber Orchestra
Conductor: Jakub Zicha